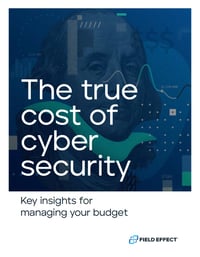 Cyber security costs are much more than the price of a data breach. Think of all the technology, people, and hours needed to defend against cyber threats every day.
If these hidden costs are getting too high, and you feel like you're running on empty, this eBook is for you.
Download your copy to learn how to:
Streamline your cyber security stack.
Overcome the talent shortage.
Reduce the impact of a data breach.
Get more bang for your cyber security buck.
About

Field Effect Software

Field Effect Software believes all businesses deserve powerful cyber security solutions to protect their operations, no matter their size. Field Effect's products and services are the result of years of research and development by the brightest talents in the cyber security industry. Our solutions are purpose-built for small and mid-size businesses and deliver sophisticated, easy-to-use and manage technology with actionable insights to keep you safe from cyber threats.