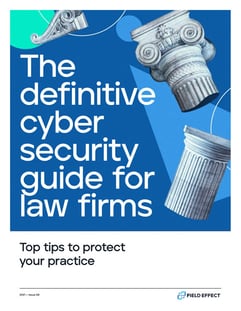 Just one cyber attack could expose confidential information, destroy client relationships, stain the firm's reputation, and even lead to costly regulatory penalties.
With damages this significant, it's vital that you know the cyber security best practices that reduce risk and keep your firm safer. Get started with this eBook to learn:
Who's targeting your firm, what they want, and how they attack
Five reasons to make cyber security a business priority
Best practices proven to strengthen your defence
Download the blueprint to better cyber security.
Owners or partners who want to keep clients safe and maintain their firm's positive reputation.

IT professionals who want to know the cyber attacks they may see and tips for a stronger defence.
About

Field Effect Software

Field Effect Software believes all businesses deserve powerful cyber security solutions to protect their operations, no matter their size. Field Effect's products and services are the result of years of research and development by the brightest talents in the cyber security industry. Our solutions are purpose-built for small and mid-size businesses and deliver sophisticated, easy-to-use and manage technology with actionable insights to keep you safe from cyber threats.