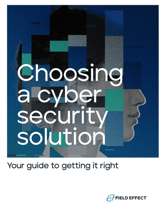 In this eBook, you'll learn about:
The benefits and limitations of different technologies.
Assessing your cyber threat surface.
Reducing attackable points in your IT infrastructure.
What to look for in a modern cyber security solution.
Get the eBook. Learn how to choose the right solution.
About

Field Effect

We believe all businesses deserve powerful cyber security solutions to protect their operations, no matter their size. Field Effect's products and services are the result of years of research and development by the brightest talents in the cyber security industry. Our solutions are purpose-built for small and mid-size businesses and deliver sophisticated, easy-to-use and manage technology with actionable insights to keep you safe from cyber threats.